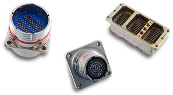 Military and Aerospace connectors with integrated EMI and TVS filters. Manufactured by Jerrik a part of Carlisle.
If the circuitry is suffering the ill effects of interference from radio waves, stray transmissions, electric power lines or electric motor noise, you are experiencing EMI (electromagnetic interference). This leads the circuit designer to consider EMI filters. A second issue, EMP (electromagnetic pulse) is driven from the catastrophic effects of extremely high voltage, short duration pulses of energy. Protection from this sudden unwanted over-voltage situation is more commonly referred to as TVS (transient voltage suppression).
Carlisle Interconnect Technologies Company is one of the world's leading designers and manufacturers of high performance wire and cable, RF/microwave connectors and cable assemblies.