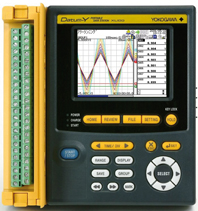 * World first in measuring instruments! Obtained IPv6
Ready Logo Phase-1 (ID:01-000273).
* Portable size (155?155?55mm) and lightweight (approx.
800g) lets you carry with one hand.
Wide viewing angle TFT-LCD. *
* Best noise resistance performance in the category of
handheld instruments.
* Improves resistance to impact by use of rubber boots
(standard accessory).
* Web server, FTP server/client and e-mail distribution
function are equipped as standard.
* Auto set & Auto run function by inserting external
memory.
* Alarm, Statistical operation and external function.